Remember Rick Dangerous?
Way before Lara Croft, back in the 1980's and early 1990's, Rick Dangerous was the Indiana Jones of computer games, running away from rolling rocks, avoiding traps, from South America to a futuristic missile base via Egypt and the Schwarzendumpf castle.
xrick is a clone of Rick Dangerous, known to run on Linux, Windows, BeOs, Amiga, QNX, all sorts of gaming consoles... download and install the game, learn how to play, and enjoy!
If you want to read more about Rick Dangerous, you may want to visit Rick Dangerous Resurrected (english) or Rick Dangerous Forever (french).
June 17, 2019
Rick Dangerous meets Web Assembly, and you can now play online. The about page there contains some details about how it all happened, and a link to the xrick GitHub repository (yes, we now have a repo!).
Eventually, the pages here will be transfered to the new location.
Sept. 6, 2013
This blog about a Rick Dangerous 2 remake has been online for years, but without much details and a broken download link.
No more! His author, Rémy, has been kind enough to contact me... so you can get DXRick2 v0.8 here. It requires DirectX 9 which is not available by default on Windows 7 or 8, but you can download and install it side-by-side with your more recent version.
There's no source code available. XRick's source code has been used and abused in various commercial ports without me making a single $ out of it... and Rémy wants to avoid that. Fair enough.
That being said... it's Rick Dangerous 2, running on your Windows machine today! Enjoy!
Sept. 4, 2012
Looks like our Rick paper toy (see below) fell off the bookshelf where it was proudly standing, and plunged towards a certain death straight into the trash bin down below... which got emptied by the cleaning service before we could even attempt to rescue him. RIP, brave hero ;-)
August 31, 2012
Who needs Flash when you have HTML5? Chris Apers, aka Chrilith, has ported xrick to JavaScript using his gamalto framework! Source is available on GitHub, you can play the game on Chris' site, and Chris has been nice enough to allow me to host a copy here.
Also note that Simon Phipps has updated his Rick Dangerous page with some details on who owns the rights to Rick Dangerous now... To make it short, nobody knows.
November 6, 2009
I'm done! Who wouldn't be scared by such a tough guy?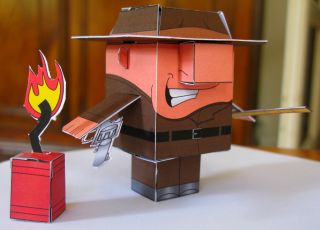 Paper toys by Simon Phipps.
November 1, 2009
Simon Phipps is celebrating 20 years since Rick Dangerous was first released on the Atari and Amiga. He's created some funny paper toys that you can get there: Free Paper Toys.
Currently building mine. Why isn't there an undo feature on paper cutters?
October 15, 2009
From time to time I receive emails such as that last one:
This is a quick note to let you know that I've just successfully built and run xrick under 64 bit Max OS X Snow Leopard 10.6.1 (released September 2009) against Apple's shipping GCC with LibSDL and zlib installed via Mac Ports. Runs great with no modifications to the code or even the makefile required. This is remarkable considering it appears the code was last updated nearly seven years ago?
Makes me happy :-) Thanks, Mike! Also—makes me feel like I should start working on xrick2 right now. Alas, no time for it.
December 24, 2008
Spent some time getting an AceKard linker, so the children can play xrick DS Lite port. The linker comes from nds worlds, and yes, their site is scary, but everything was delivered smoothly in less than one week.
I realize this site did not link to Simon Phipps. So, from the man himself : Rick Dangerous and Rick Dangerous 2 (yes, I still intend to reverse that one, too. Only, it will have to wait until the children are older and I spend less time replacing destroyed DS Lite touchscreens...).
October 26, 2007
Rick Dangerous meets Ubuntu! Get xrick packages for Gutsy Gibbon here. Many thanks to Pierre-Yves Landuré.
November 8, 2006
Rick Dangerous Flash has moved, go play there.
October 25, 2005
I have absolutely no time to work on xrick, however I had to take a few minutes to add a link to an astonishing port of xrick to... Flash! Play you favorite game in your browser, play Rick Dangerous Flash.
April 20, 2004
Quick update, just to report that I am not dead, but have no time for xrick at the moment ;-|
Others have : some guy next to me in the tube/underground/metro was playing xrick on his cellphone! I knew xrick had been ported to (Windows-based) SmartPhones, now what about this Java "Rick Ranger" for Nokia phones? Did they reversed Rick from scratch, or did they port xrick?
Mmm... they won't tell.
June 20, 2003
A bug has been reported in version #021212: don't touch the jewel in Egypt, or the game will freeze. This is linked to the audio layer (so if you play with -nosound it does not happen) and will be fixed eventually.
About a year ago I sent this email to Core Design in the hope that they may give xrick a legal existence. As of today, it is still unanswered, but in the meantime the Spoutnick Team managed to talk to Core Design about buying a license, so they can release their Game Boy Advanced port. Core Design refused for "internal reasons", whatever that means. So... don't expect xrick to be GPLed soon :-(